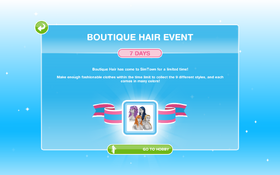 The
Boutique Hair Event
is a time limited hobby event. Like the
Long Hair Event
, it involves the
Fashion Designer
hobby and lasts 7 days to get nine hairstyles.
If you don't finish and only earn one or two hairs, it will come back in the future for you to try again. If you do earn all nine, then it won't come back.
Prizes (hairstyles)
Randomized - you might not get the one you want most. The hairs come in 12 different colours: light brown, dark brown, black, dark blonde, blue, red, silver, lilac, pink, light blonde, orange and dark purple. The Harajuku hairs each has two additional colours.
Harajuku Pigtails
Harajuku Bows
Loose Ponytail
Loose Side Plait
Simply Straight
Wavy
Side Part
Parted Fringe
Wavy Fringe