Bowling is a hobby found in the Sunset Mall that both Adults and Teens can take part in. Up to 4 Sims can bowl at the same time. In order to unlock this hobby, you need to firstly build the mall, then you need to complete the catwalk model hobby to be able to unlock 8 stores, then all areas of the mall need to be cleaned so you can unlock the bowling alley. There is only one bowling option:
Let's bowl! - 6 hours 30 minutes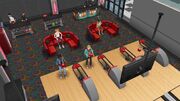 Bowling Levels
Edit
There are 6 Bowling Levels:
1. Gutter Baller
2. 7-10 Split Master
3. Spare Setter
4. Spin King
5. Punch Out Queen
6. The Perfect Bowler
Ad blocker interference detected!
Wikia is a free-to-use site that makes money from advertising. We have a modified experience for viewers using ad blockers

Wikia is not accessible if you've made further modifications. Remove the custom ad blocker rule(s) and the page will load as expected.