Bree is a non-playable character. She appears in three DIY Home quests. In past updates, Bree is not visible through the Sim Tracker, but in the Downtown High Update, she can be seen on the Sim Tracker.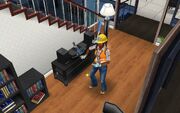 Bree appears as a dark skinned Adult female Sim with black plaited hair and a yellow hard hat. She wears an orange vest over a shirt, jeans, brown boots and gloves. 
She is a friendly woman who likes all things involving DIY and renovations. In past updates, she can be found wandering around the DIY Home. In the Downtown High Update, she still walks around the DIY Home but juggles tools and takes out a camera when in a static position.  
Interactions
Edit
You cannot interact with Bree until the goal in the quest tells you to. 
Bree will appear for all three quests, however when the quests are over she will disappear forever.  
These are the discovery quests involving Bree. You can find her at the Park to start the first and third quests. Bree will be waiting outside the Community Center to start the Lovey-Dovey Balcony quest. 
The first quest. Bree helps your Sims create their own patios, including railings and outdoor furniture.
The second DIY themed quest, where Bree helps your Sims make their own balconies while filming a romantic TV show.
The third and final DIY themed quest. This time your Sims want basements, so they ask Bree for help again.
Ad blocker interference detected!
Wikia is a free-to-use site that makes money from advertising. We have a modified experience for viewers using ad blockers

Wikia is not accessible if you've made further modifications. Remove the custom ad blocker rule(s) and the page will load as expected.