Fashion Hunter is time limited hobby which you can find on the 2nd floor of Sunset Mall, if you complete in 7 days you unlock the indoor skydiving wind tunnel. Adults and teens can complete this hobby and up to 5 can take part at one time.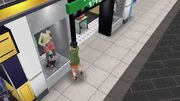 There are six levels:
| Level | Name |
| --- | --- |
| 1 | Fashion Flailer |
| 2 | First Offer Taker |
| 3 | Bargain Lover |
| 4 | Fashion Eye |
| 5 | Dream Dealer |
| 6 | Style Shark |
How to Unlock
Edit
In order to unlock Fashion Hunter, you need to complete the makeup artist hobby then clear up Memory Lane and build the fashion hunter bargain center, then the time for the hobby will start.
There is only one action in this hobby: Hunt for fashion- 5 hours 30 minutes. You can click on any store you have built upstairs, the sale stalls or clothes racks to get this option.
What do you win?
Edit
Once you start the hobby, you have 7 days to unlock the indoor skydiving tunnel. Once built you can have a solo sky dive for 10 minutes or wait for a partner and tandem sky dive for 20 minutes.
However, if you don't complete in time you still unlock the cinema.
In addition, with each row you complete you unlock a new shop in the mall
Find
To unlock
First row of fashion
Tuck's
180,000
16 hours
Second row of fashion
Friday Night
225,000
1 Day
Third row of fashion
Jack and Jill
140,000
16 hours
Fourth row of fashion
Summer to Winner
150,000
1 Day
Ad blocker interference detected!
Wikia is a free-to-use site that makes money from advertising. We have a modified experience for viewers using ad blockers

Wikia is not accessible if you've made further modifications. Remove the custom ad blocker rule(s) and the page will load as expected.