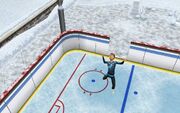 Figure Skating is a Hobby found in The Snow Park once you complete the An Alien Concept: Weather Machines quest. Your
Preteens
,
Teenagers
, and Adults can learn how to figure skate by clicking one of the four ice patches on the Skating Rink. When you finish the It's All Going Swimmingly quest and earn the ability to build your own pools, use the
Weather Machine
to create snow, then the pool will freeze over. Use it to learn skating there. 
There are four options:
Warm Up -- 10 minutes 
Quck Routine -- 1 hour
Relaxing Skate -- 6 hours
Devoted Dance -- 12 hours
Each will give you the chance of receiving a medal. When you collect all 12 medals, you will unlock the snow mountain. The second time you will unlock Figure Skating outfits for female and male Sims and the third time you will get 3 Lifestyle Points. 
Ad blocker interference detected!
Wikia is a free-to-use site that makes money from advertising. We have a modified experience for viewers using ad blockers

Wikia is not accessible if you've made further modifications. Remove the custom ad blocker rule(s) and the page will load as expected.