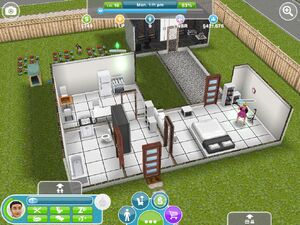 In The Sims FreePlay, your Sim's residence is an important part of the game. There, they can eat, sleep, play, learn, garden, etc. Some hobbies can even be practiced in your Sim's residence. Your Sims can move in together, start families, and visit one another when they aren't busy. 
You will begin the game with a single Sim in a pre-built house, but once you get started you'll be able to clear vacant lots and custom-build brand new homes for your Sims-- or you can purchase pre-designed "theme" houses (often fully-furnished!) using
Simoleons
or♙
Lifestyle Points
. Each cleared lot or newly built house will increase the property value of your town.
Please keep in mind that, like businesses and corporations, the cost to build homes increases as your number of residences, Sims, and game level increases.
There are two types of housing to consider when you're ready to start building your Sim's dream home: the Standard Residence or the Premium Residence.
The home that you begin the game with is located on one of the "standard" lots, which are smaller and much cheaper to build on than the 'premium' lots. However, 'premium' lots are significantly larger than the 'standard' lots (twice as big) and you have much more room to build-- and they are beach-front property, which means building on them increases your town's value much more than if you build on a smaller lot. All of the standard lots are one story, while premium can be 3 stories. 
Standard Residence
Edit
Unfurnished Studio
Furnished Townhouse
One Bedroom Home (Family Home in old version)
Japanese Retreat
Neo Tokyo
Mansion
Empty Lot
Dark Secret
Geek Heaven
Medieval Castle
Sim Cinema
Designer's Home
Player Designed House
Sci-Fi Shuttle
Scandanavian House
Renovator's Dream
Premium Residence
Edit
Unfurnished Studio
Furnished Townhouse
One Bedroom Home (Family Home in old version)
Japanese Retreat
Neo Tokyo
Mansion
The Sanctuary
Dark Secret
Geek Heaven
Pro Skater's Dream Pad
Medieval Castle
Sim Cinema
Player Designed House
Designer's Home
Sci-Fi Shuttle
Beachside Escape (!)
Two-Story Mansion (!)
Scandinavian House
Teen Idol Mansion
Renovator's Dream
Two Story Unfurnished House (!)
Three Story Unfurnished House (!)
*(!) not available for Standard Residence.
Boathouse (Mystery Island)
Edit
The Cavernous Cruiser
The Tiny Tight-pocket
The Pint-prized Prince
The Royal Wavecutter
As you excel in the game, you will unlock more houses to move your Sims into.
Deleted Houses
Edit
Sadly, these houses did not make the cut when the game was still in development.
The 'Premium' residential lots didn't always exist.
If you build a house with items you have not unlocked, you will have them in the house but you cannot buy anymore of that item from the store.
Ad blocker interference detected!
Wikia is a free-to-use site that makes money from advertising. We have a modified experience for viewers using ad blockers

Wikia is not accessible if you've made further modifications. Remove the custom ad blocker rule(s) and the page will load as expected.