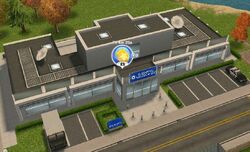 The Police Station is a workplace next to the Community Center and
Deer Spring Falls
. It is the first of three Professions, starting in the Police Update in June 2016. It is similar to the Police career in
The Sims 4
.
Overview
Edit
To get the Police Station, players must meet the requirements to build it. Depending on how many houses and other buildings already built, the cost for the station varies for players. When they have reached the required cost, players can then build the station.
Players follow two Sims and help them with their shifts. They start at 'Rookie' level 1 and help 25 NPCs (non-player characters) to level up. When they reach level 6, they are assigned two new roles, one each: 'Special Agent' and 'Metro Police.' Players continue to level up their Sims to level 10 to unlock new areas and new options. 
In the Doctor, Doctor Update in September 2016, when sims reach level 10 they will unlock new outfits: the Sim-in-Black for Special Agent and Police Commissioner for Metro Police. 
Tutorial
Edit
The tutorial is the same for all three Professions. It helps familiarise players to the careers and what they need to do. 
Visit the Police station
Send a Sim to work at the station (Click on the Occupations tab and tap the briefcase, you'll see the Police career. Click 'Accept Job' and tap the briefcase to send them to work. Then tap 'Accompany Sim').
Help a Sim at the Police station -- tap a bubble over a Sim's head and choose one of the options
Help again at the Police station -- tap a bubble and choose another option
Check workplace overview --  tap on the gold Police badge in the top left hand corner
Check workplace storage -- second tab beside overview
Help a Sim at the station
Check the work shift quota -- bottom left corner, look at 0/25.
Fulfill special resources -- wait for a Sim with pink sparkles and a bubble with a ? over its head, complete the task to see which resource you'll get.
Trade resources -- third tab beside storage
Upgrade a workstation -- click on a green arrow above one of the stations
Complete the remaining work day -- either keep helping 25 Sims, send your Sims off-site or click on the red cross on the bottom left corner. A pop-up will ask if you want to cancel or finish shift, finishing the shift will cost Lifestyle Points.
Workstations 
Edit
Rookie Workstations 
Edit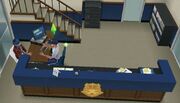 Front Desk
The Front Desk allows your Sims to handle general Police admin tasks and reports.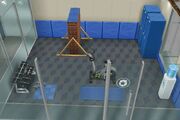 Training Center
The Training Center helps get your Sims into shape for Police duties!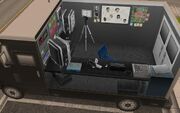 Surveillance Van
The Surveillance Van has all the tools your Sims will need to watch areas for suspicious activity. 
Metro Police 
Edit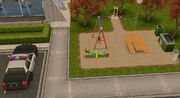 Squad Car 
The Squad Car allows your Police Sims to easily help members of the local community with a variety of tasks.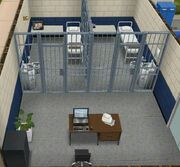 Jail Cells 
The Jail Cells are a place for the most mischievous Sims to have a little time out.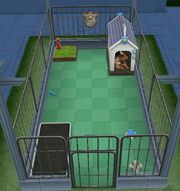 K-9 Unit 
The K-9 Unit provides Police Dogs! They can help Sims to sniff out lost possessions.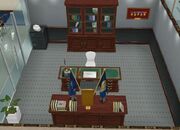 Chief's Office
The Chief of Police gets a big desk, fancy chair, and a nice view. If you're doing the hardest jobs, you should at least be conformtable! 
Special Agent
Edit
Interview Room 
The Interview Room has a cool one-way-mirror, so your Sims can make silly faces without being seen.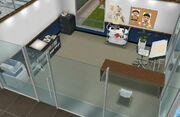 Sketch Room 
The Sketch Room is the perfect place to draw artists impressions of eye witness accounts. What will their pictures reveal?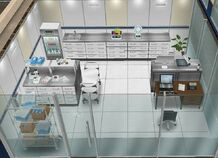 Forensics Lab 
The Forensics Lab allows your Sims to analyze evidence like fingerprints, DNA and other weird stuff!
Division 51
The inner workings of Division 51 are classified. Only Special Agents of the highest ranking get clearance to work here. 
Ad blocker interference detected!
Wikia is a free-to-use site that makes money from advertising. We have a modified experience for viewers using ad blockers

Wikia is not accessible if you've made further modifications. Remove the custom ad blocker rule(s) and the page will load as expected.