After using a birthday cake and having a birthday party for a toddler, that Sims will advance to the Pre-teen life stage. Pre-teen Sims can become Teenagers by completing Osiris's teen mission.
The preteen life stage is only available in The Sims FreePlay. It is similar to the Child stage in other games.
The
Community Center
 is mostly for preteens. They are able to learn karate or ballet there. However, there is also woodworking benches for Adult sims. Preteens can also learn how to Dive and how to Figure Skate. After the Arcade is unlocked on Mystery Island at level 26, they can also practise the Skill Tester hobby.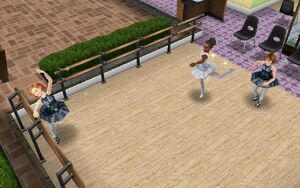 Your preteens can also earn Simoleons and XP (experience points) by attending school.
The amount of money (allowance) and XP your preteen will earn from going to school depends on their grades. The higher their grade, the more Simoleons and XP they will come home with.
Your preteen can improve well his or her grade by (1) going to school every day, as well as (2) studying with a Study Desk when they're at home. You can purchase a Study Desk from the Home Store, under the 'PreTeens' tab, for Simoleons or Lifestyle Points.
Ad blocker interference detected!
Wikia is a free-to-use site that makes money from advertising. We have a modified experience for viewers using ad blockers

Wikia is not accessible if you've made further modifications. Remove the custom ad blocker rule(s) and the page will load as expected.