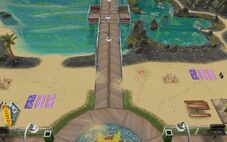 The Public Beach can be bought after you have completed Life Dreams and Legacies Quest for 2 Bronze and 2 Silver Sporty Life Orbs. It can be found on the Mysterious Island. It will take 36 Hours to build, no matter however many buildings you already have built.
Currently, three kiosks can be bought, on the beach, to upgrade it. 
Snorkel Hire Kiosk
Edit
The Snorkel Hire Kiosk can be bought for 8 Bronze and 4 Silver Sporty Life Orbs. This lets you go snorkelling.
Surfing Kiosk
Edit
The Surfing Kiosk is available for 4 Bronze and 1 Silver Sporty Life Orb. This unlocks the Surfing Hobby.
Swimming Kiosk
Edit
The Swimming Kiosk is 3 Bronze and 1 Silver Sporty Life Orb. This allows your Sims to go swimming in the ocean.
Snorkeling
Edit
Sims can take part in the Snorkeling Hobby once you have built the Snorkel Hire Kiosk. 3 Pools are available to snorkel in.
Tide Pool
Edit
The first pool you will unlock is the Tide Pool. It will be unlocked when the Snorkel Hire Kiosk is built.
Lagoon Pool
Edit
Once you have found all the treasures in the Tide Pool, you will unlock this larger pool for your Sims.
Reef Pool
Edit
This is the final pool you can unlock, you can unlock it by collecting all of the treasures from the Lagoon Pool.
The Surfing Hobby can be unlocked by building the Surfing Kiosk. Once you have completed the collection, you will unlock a Surf Van for your Sims.
Seashell Collecting
Edit
Toddlers and Preteens can use the collection of shells on the beach to find all sorts of shells, starting a collection.
Ad blocker interference detected!
Wikia is a free-to-use site that makes money from advertising. We have a modified experience for viewers using ad blockers

Wikia is not accessible if you've made further modifications. Remove the custom ad blocker rule(s) and the page will load as expected.