SimTown Elementary is a school for Pre-teen Sims to go to at any time of the day. It is unlocked once the Preparing For Preteens quest has been completed.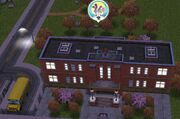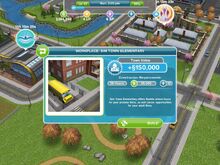 Pre-teens can only earn pocket money (simoleons) by going to school. Their leveling system works with grades. Students attend school for 7 hours for levels 1-6 and 5 hours for levels 7 and 8. 
Grade Levels
Edit
C- §130 XP 400
C+ §240 XP 450
B- §310 XP 500
B+ §390 XP 525
A §480 XP 550
A+ §600 XP 600
A++ §645 XP 650
A+++ §700 XP 800
Adult Career - Teacher
Edit
Building SimTown Elementary also unlocks the Teaching career for adults. If you're a Level 1-3 Teacher, then you teach for 7 hours. But if your Sim is Level 4 or 5, then you teach for 5 hours. 
Dunce  §650 XP 592
Class Clown §700 XP 900
Teaching Student §800 XP 1345
Teachers Aide §895 XP 1708
Preschool Teacher §1045 XP 1955
Ad blocker interference detected!
Wikia is a free-to-use site that makes money from advertising. We have a modified experience for viewers using ad blockers

Wikia is not accessible if you've made further modifications. Remove the custom ad blocker rule(s) and the page will load as expected.