Stables
are the home of Horses.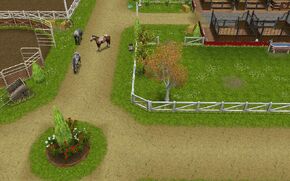 When you first find the stables, they are overgrown with weeds, covered with garbage and ruined. It is your job to repair them, cleaning everything up, fixing gates, ect. You will then be able to keep horses, also unlocking 3 new hobbies. You will acquire the stables during the Need For Steed Quest.
Horse Tricks
Edit
The first horse hobby you will unlock, 1 Star Horses and up can take part in this hobby. It takes 3 hours a time. Once you have collected all the medals, you will unlock 2 Star Horses and the Vaulting Hobby.
The second horse hobby you will unlock, 2 Star Horses and upwards can take part. Once you collect all the medals, you will unlock 3 Star Horses.
Show Jumping
Edit
The last horse hobby you will unlock, only 3 Star Horses can take part.
It says teenagers can complete the hobby, but they can't, all they can do is ride the horses, feed them and stroke them.
Ad blocker interference detected!
Wikia is a free-to-use site that makes money from advertising. We have a modified experience for viewers using ad blockers

Wikia is not accessible if you've made further modifications. Remove the custom ad blocker rule(s) and the page will load as expected.