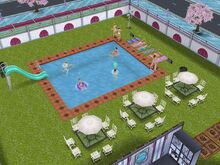 Swimming Pools (Home use)
Edit
A swimming pool is an unlockable build function in The Sims Freeplay that becomes an option after the "It's All Going Swimmingly" quest.
With a pool, you can buy pool objects such as inflatable chairs, slides, or inflatable sharks or orcas. These objects can be used to fill up Sims' sleep bars or fun bars.
However, after a few days pools will become a dark green colour. If a Sim swims in the pool, their Hygiene need will drop drastically and they will automatically get out of the pool. You have an option to clean the pool (or have the automatic pool cleaner bonus help) so sims can swim in it again.
If you have a weather machine and select the "Make it Snow" button, a swimming pool will become an Ice Skating Rink for Sims to figure skate on.
Ad blocker interference detected!
Wikia is a free-to-use site that makes money from advertising. We have a modified experience for viewers using ad blockers

Wikia is not accessible if you've made further modifications. Remove the custom ad blocker rule(s) and the page will load as expected.