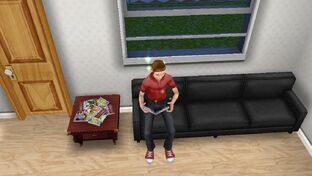 "The Road To Fame" is a quest which unlocked after completing the task of "Higher Education".  The ability to build "The Famous Sim Town Sign" will be unlocked. If you complete the quest within the 7 day time limit, then you will win Premium Instruments, which can be found in the Home Store.
Part
Requirements
Duration
1
Buy a Stack of Magazines
None
2
Make a Teenager read Teen Celebrity Magazine
3 hours
3
Make a Teenager watch Funny Cat Videos
1 hour 30 minutes
4
Send a Teenager to the Park
None
5
Create a plan to become famous
6 hours
6
Buy a Keyboard from the Home Store
None, §00
7
Write Music
1 hour
8
Write 3 Pieces of Music
(time varies)
9
Write 6 Pieces of Music
(time varies)
10
Write 9 Pieces of Music
(time varies)
11
Write 12 Pieces of Music
(time varies)
12
Write 15 Pieces of Music
Ad blocker interference detected!
Wikia is a free-to-use site that makes money from advertising. We have a modified experience for viewers using ad blockers

Wikia is not accessible if you've made further modifications. Remove the custom ad blocker rule(s) and the page will load as expected.