The Snow Park is filled with exciting activities for your Sims to embark on, including figure skating, snowboarding, ice hockey and more!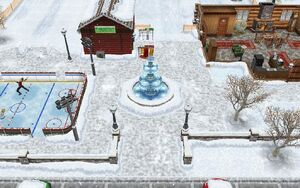 Unlocking
Edit
Once you have completed the quest  'An Alien Concept: Weather Machines' you will have the option to build the Snow Park.
Figure Skating
Edit
Your Pre-Teens, Teenagers, and Adults can learn how to figure skate by clicking one of the four ice patches on the Skating Rink. There are four options:
Warm Up : 10 Minutes/15 XP
Quick Routine  :  1 Hour/150 XP
Relaxing Skate : 6 Hours/450 XP
Devoted Dance : 12 Hours/900XP
Each will give you the chance of receiving a medal. When you collect all 12 medals, you will unlock the snow mountain.
Stuff To Do
Edit
Before you can go snowboarding, you have to all 12 of the Figure Skating medals, but once you have, you will have full access to the snow mountain, where you can snow board!
Your Sims can play Ice Hockey on the ice rink, right next to the skaters.
There are two spots for Sims to have a snowball fight!
There is a huge cabin on the right side of the park. There is a bar, a little kitchen, a cozy fire, and a bookshelf with some comfty chairs for your Sims to warm up and relax in.
Ad blocker interference detected!
Wikia is a free-to-use site that makes money from advertising. We have a modified experience for viewers using ad blockers

Wikia is not accessible if you've made further modifications. Remove the custom ad blocker rule(s) and the page will load as expected.