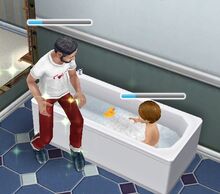 Toddlers are the life stage of Sims between baby and preteen. Babies can be aged into toddlers after completing A Quest for Toddlers, unlocked at level 12.
Toddlers can walk by themselves and can play with toys, such as dollhouses or rocking horses.
Toddler Needs:
Food: Toddlers must be fed by an adult. However, if an adult cooks a meal, the toddler can also eat that. Toddlers cannot eat anything from the refrigerator.
Toilet: Toddlers can use the toilet by themselves, but it takes slightly longer for them to use the toilet than adults. Toddlers cannot use public toilets, such as the ones in the swim center or park.
Sleep: Toddlers cannot use coffee or tea machines, but must physically sleep. Sitting them in a chair also fills their sleep bar.
Hygiene: Toddlers cannot wash their hands or use the shower. The only way for a Toddler to fill their hygiene bar is to take a bath. An adult is needed for this action.
Social: Toddlers can interact with other Toddlers, Pre-Teens, Teenagers, Adults, and Seniors. They can talk to them or cuddle with them to fill their social bar.
Fun: Many toys for toddlers are available in the home store. Toddlers can also play Pat-A-Cake or hide and seek with other Sims.
Hobbies Toddlers can take part in a few hobbies. These are: Toddler Playhouse, Seashell Collecting and Finger Painting.
Ad blocker interference detected!
Wikia is a free-to-use site that makes money from advertising. We have a modified experience for viewers using ad blockers

Wikia is not accessible if you've made further modifications. Remove the custom ad blocker rule(s) and the page will load as expected.