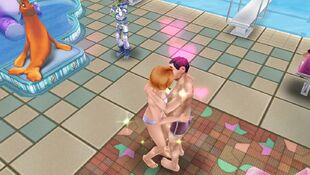 WooHoo is an action that Partnered, Engaged, or Married Sims can do. In the 2015 Royal update, they can now WooHoo in bed if one is available, if one isn't available for them, they will switch into their bathing suits and kiss each other under a blur while hearts come off of them.
Ad blocker interference detected!
Wikia is a free-to-use site that makes money from advertising. We have a modified experience for viewers using ad blockers

Wikia is not accessible if you've made further modifications. Remove the custom ad blocker rule(s) and the page will load as expected.