WooHoo is an action that Partnered, Engaged or Married Sims can do. The action takes five minutes. 
General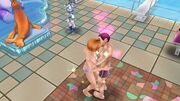 In the 2015 Royal update, they can now WooHoo in bed if one is available.
To do the action, you tap on the Sim that is Partner, Engaged or Married and click on 'WooHoo' option on the top right side. They will then go to a bed and hearts will float up. If one isn't available for them, they will switch into their bathing suits and kiss each other under a blur while hearts come off of them. They can WooHoo in any location.
Sims can only Woohoo once players complete the 'Love Is In The Air' quest. If players use the 'Be Romantic' option and woohoo before the goal tells them to, then it won't register that you've done it and you might have to redo it.