Meet Wumples, the Water-Safe Bunny!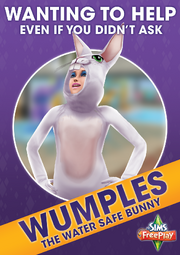 Quests with Wumples
Edit
It's All Going Swimmingly
Edit
You will first meet Wumples here, at level 13. She will give you advice and talk to you about the new pools! 
In Da Clubhouse
Edit
Wumples is back! In this quest, which unlocks at level 14, she will read to your toddler. Such fun.
Multi-Story Renovations
Edit
Wumples appears at the Grand Opening, and she will also give your Sim psychoanalysis, numerous times... Your Sim gets to share ideas with her and talk to her, a lot.
Sous Judgemental
Edit
Wumples is back, yet again, in this level 16 quest. She will appear as a judge, you can cook her anything though.
Wumples make-up can be bought from the salon for $1,000 (females only)
Whenever she is near by, you can see her dancing and yelling.
Ad blocker interference detected!
Wikia is a free-to-use site that makes money from advertising. We have a modified experience for viewers using ad blockers

Wikia is not accessible if you've made further modifications. Remove the custom ad blocker rule(s) and the page will load as expected.